---
Jim Click 2015 Mustang Raffle
Jim Click automotive Team presents the 2015 Ford Mustang, 50th Anniversary Edition Raffle. With your $25 contribution (or 5 tickets for $100) you could win a 2015 Ford Mustang, 50th Anniversary Edition, valued at approximately $46,995. For those who purchase tickets from the Ara Parseghian Foundation, you will also be entered into the Parseghian Foundation Give-Away. Click here for an order form OR click here to purchase tickets online.
---
Vtesse Clinical Trial Support Letter
August 4, 2015
Dear NPC Patient Community:
It is hard to imagine how far we have progressed with the research and development of potential treatments for Niemann-Pick C. The entire community deserves to be commended on the hard work and dedication it has taken in order to get us to this point. Our community is in a position that many other rare disease communities strive to achieve. Researchers, companies, and even investors are focusing on developing treatments for NPC.
This influx of activity leaves us in a position of great hope, but at the same time, it also leaves us in a position of great concern. The concern is this: can this small patient community support potentially three clinical trials all at the same time? It is one of those "good problems to have," but if the answer is "no," then our hopes and our chances of having approved products for NPC patients are greatly diminished.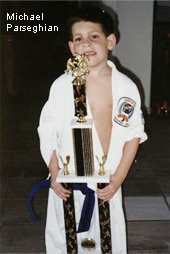 Sadly, the Parseghian family has lost Michael, Marcia and Christa to Niemann-Pick Type C disease. Their hearts will be forever broken.
Their resolve, however, to continue the fight against NP-C disease is not broken. The Parseghians and thousands of volunteers and friends across the US and around the world are raising funds and pushing medical research so that a treatment can be found.
Please help us in this valiant effort so that everyone afflicted with Niemann-Pick around the world can live to realize their hopes and dreams. Thank you.